Tuesday, August 26 2014 @ 02:11 PM UTC
Contributed by: B' Spokes
Views: 473
Early bird registration has been extended!
photo credit: smilygrl/Alliance for Biking and Walking
2014 Tour du Port Important Date Change to September 28
Due to a schedule conflict with Baltimore City Rec and Parks, the date for Tour du Port has moved one week later to September 28, 2014. We apologize for the inconvenience and have extended early-bird prices until September 1st! We'll use the extra week to serve up an extra special ride! Stay tuned for exciting new ride features and updates in the weeks to come.
Sign up today: 2014 Tour du Port Info Registration
Here's a preview of what you can expect on the 50 mile Raven Challenge route:
Start on the Jones Falls Trail. After a quick jaunt east from Canton Waterfront Park, the Raven Challenge route picks up the Jones Falls Trail. You'll ride along the Fallsway working your way north

Bike through Johns Hopkins, Loyola and Beautiful Baltimore Neighborhoods. The route continues north through Johns Hopkins Homewood campus, Loyola and classic Baltimore neighborhoods featuring stately homes.

Ride through Loch Raven and the Rolling Hills of Baltimore County: You filled up your water bottles before the ride, now see where that water originated! The route crosses Loch Raven Reservoir and heads east for a nine mile loop past Boordy Vinyards and returning to Loch Raven.

Head Back through Morgan State and around Lake Montebello. After passing through the Loch Raven watershed twice, you start to return south, heading through Morgan State University and around Lake Montebello.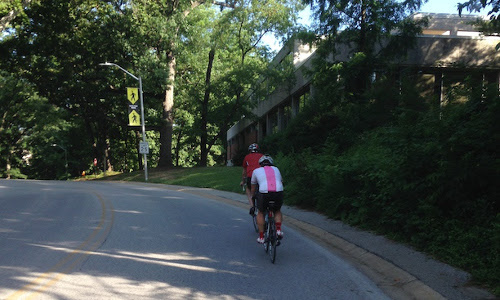 Larry's Ride is Back on September 14th and Better Than Ever
Registration is open now! Joint registration with Tour du Port is available for $60. Hurry early bird registration ends September 1st!
Enjoy the beautiful scenic and challenging terrain at the 5th Annual Larry's Ride event. Larry's Ride features four beautiful yet challenging routes through rural Baltimore County out of Camp Milldale. Choose from Larry's Rolling Ramble (22 miles), Larry's Rural Rampage (35 miles), Larry's Reservoir Roll (60 miles) and the brand new route: Larry's Rural Ruckus (75 miles).
After the ride, stay in Camp Milldale for a barbeque lunch, beer vendors, socializing, music and more!
Bike Maryland's New Executive Director, Meet Nate Evans
As a life long bicyclist and Marylander, Nate knows the current cycling conditions of the state and the challenges we face to make our home more bike-friendly.
Nate got his start biking at a young age when he discovered the freedom and fun of biking in suburban Baltimore. Unlike his classmates who were buying cars, Nate bought a Trek bicycle which he still owns to this day. After college, he worked as a consulting civil engineer to the Maryland State Highway Administration (SHA) before joining Baltimore's Department of Transportation as the city's first full time bicycle and pedestrian planner. Today, Nate is excited to continue working with advocates across Maryland in his new capacity as executive director. With his knowledge of bicycle planning, engineering and funding, Nate hopes to empower advocates with the tools they need to make their Maryland communities more bikeable.
Read more about Nate's accomplishments here and stay tuned to hear about Bike Maryland's strategic plan and vision for improving bicycling state-wide.
Upcoming Maryland Bicycle Events
​An event from Annapolis Bicycle Racing Team touring Chesapeake Bay's western shore with four routes 25, 50, 62 and 100 miles. Early registraton closes August 27 with same-day registration also available.
A ride through the scenic Potomac Heritage area of Southern Marlyand with five route from 16 - 100 miles. Pre-register until September 5, walk up registration available.
Bikemore's second annual free celebration featuring great live music, food trucks, relaxed cycling and general good times out of Druid Hill Park in Baltimore City from 4:00-9:00 PM.
A mountain biking event in Montgomery County hosted by MORE offering flowing sigle track through 11 parks with distances ranging from 25-65 miles and full blown festivities.
A first annual Anne Arundel County century ride hosted by BikeAAA with 15, 56 and 100 mile routes featuring views of downtown Annapolis, the Severn River, southern Anne Arundel County and more.
Support bicycling initiatives.
Join Bike Maryland