Wednesday, October 16 2013 @ 08:47 AM UTC
Contributed by: B' Spokes
Views: 1,316
From MDOT!!!


We're on this road together, expect and respect is the theme of SHA's new bicycle safety education effort geared to both drivers and bicyclists. In an expansion of past "Share the Road" efforts, the new campaign issues a plea to both drivers and bicyclists to follow the rules and laws of the road and anticipate the needs of each other. Bicycle safety is a two-way street – the safety of bicyclists not only depends upon the bicyclist, but the drivers with whom bicyclists share the road. Bicycles are less visible, quieter, and don't have a protective barrier around them.
As the popularity of bicycling grows as a healthy and environmentally friendly way to commute, as well as exercise, SHA is committed to providing "Complete Streets" in Maryland. With each roadway resurfacing project, SHA evaluates the road for bicycle markings and amenities.
Most drivers tend to look for other drivers, and may unintentionally overlook our friends on two-wheels. Even the slightest mistake on the part of the driver can result in tragic consequences for the bicyclist.
Bicyclists fare best when they act like and are treated as drivers of vehicles. By Maryland law, bicycles are vehicles, and bicyclists have the same rights and responsibilities as drivers of motor vehicles. Staying visible to drivers is key, so bicyclists need to ride in a predictable manner and take important steps to wear the proper gear and equip bicycles appropriately.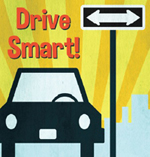 Tips for drivers:
Expect bicyclists on the road.

Always keep a safe following distance.

In certain conditions, bicycles may position in the center of the lane.

Allow at least 3 feet when passing.

When turning, yield the right-of-way to bicycles as you would other vehicles.

Merge into bike lanes before turning right.

Look for bicyclists before opening a car door.

Be vigilant when pulling out of driveways or side streets.

Watch for children.

Stay alert and keep your eyes on the road. It's illegal to text and use hand held devices while driving.

Use turn signals and obey the speed limit.
Tips for bicyclists:
Bikes are vehicles; obey the rules of the road. Stop at all red lights and stop signs.

Ride defensively – expect the unexpected.

Ride with traffic, never against it.

Use hand signals when turning or stopping.

Stop for pedestrians.

Pass on the left when overtaking a vehicle.

Use marked bike lanes when present.

Never ride more than two abreast.

Maryland law restricts bicycles on sidewalks, except where allowed by local ordinance.

Make yourself visible day and night with lights, reflectors and gear.

Wear a helmet correctly – not tilting back.